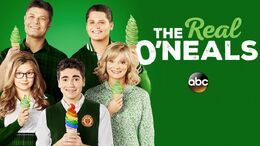 The Real O'Neals
is an American single-camera comedy that will debut on ABC as an entry in the 2015–16 television season. The series, based on an idea by Dan Savage (who will also serve as executive producer), was greenlighted to order on May 7, 2015. The show debuted on March 2nd, 2016.
The show is centered around the O'Neals, an Irish Catholic family who, after several secret come out must adapt and learn to accept each other. The O'Neal family continues its journey of self discovery and growth, resulting from Kenny coming out and his parent, Eileen and Pat, getting a divorce, as they explore new relationships, friendships and acceptance of one another in the next, messier chapter of their lives.
Cast
Gallery
Ad blocker interference detected!
Wikia is a free-to-use site that makes money from advertising. We have a modified experience for viewers using ad blockers

Wikia is not accessible if you've made further modifications. Remove the custom ad blocker rule(s) and the page will load as expected.